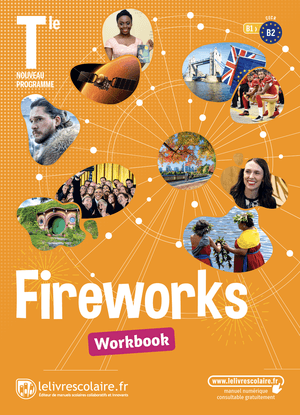 Anglais Terminale - Cahier d'activités
Rejoignez la communauté !
Co-construisez les ressources dont vous avez besoin et partagez votre expertise pédagogique.
1. Identities and Exchanges
2. Private and Public Spheres
Ch. 3
Is It a Man's World?
Ch. 4
The Roaring Twenties
3. Art and Power
Ch. 6
A Never-Ending (Hi)story?
4. Citizenship and Virtual Worlds
Ch. 7
To Tweet or Not to Tweet?
Ch. B
Digital Passports at Risk...
5. Fiction and Realities
Ch. 8
Chivalry Isn't Dead!
Ch. 9
It's GoT to Be Shakespeare!
6. Scientific Innovations and Responsibility
Ch. D
To Infinity and Beyond!
7. Diversity and Inclusion
Ch. 12
Multicultural New Zealand
8. Territory and Memory
Méthode
Méthode : Les épreuves de Terminale
Go through what you have seen so far.
Step 1
10min
In groups (each group is in charge of one category), browse the unit in the book and your notes in your copybook to make a list of all the things you have studied in this unit.
Group 1

Vocabulary


Group 2

Grammar


Group 3

Methods


Group 4

Cultural knowledge

Step 2
10min
Make new groups with one person from group 1, one person from group 2, one person from group 3… Then, share your findings to fill in a mind map of the unit on your copybook.
Read carefully the assessment grid of your project.
Read the scenario of your final project and think about the possible dos and don'ts. From the list below, select the items corresponding to your project and write their number in the right category.
What do you think would be your assets?
To which aspect do you have to pay particular attention?
| I must... | I may... | I should'nt... |
| --- | --- | --- |
| | | |
In your textbook, get started on your final project!
Une erreur sur la page ? Une idée à proposer ?
Nos manuels sont collaboratifs, n'hésitez pas à nous en faire part.