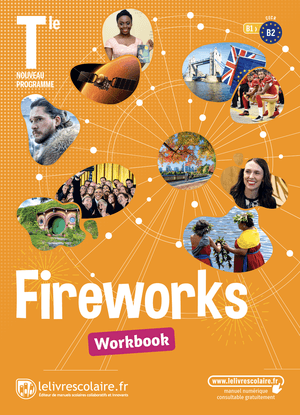 Anglais Terminale - Cahier d'activités
Rejoignez la communauté !
Co-construisez les ressources dont vous avez besoin et partagez votre expertise pédagogique.
1. Identities and Exchanges
2. Private and Public Spheres
Ch. 3
Is It a Man's World?
Ch. 4
The Roaring Twenties
3. Art and Power
Ch. 6
A Never-Ending (Hi)story?
4. Citizenship and Virtual Worlds
Ch. 7
To Tweet or Not to Tweet?
Ch. B
Digital Passports at Risk...
5. Fiction and Realities
Ch. 8
Chivalry Isn't Dead!
Ch. 9
It's GoT to Be Shakespeare!
6. Scientific Innovations and Responsibility
Ch. D
To Infinity and Beyond!
7. Diversity and Inclusion
Ch. 12
Multicultural New Zealand
8. Territory and Memory
Méthode
Méthode : Les épreuves de Terminale
Le zoom est accessible dans la version Premium.
Crédits : Lelivrescolaire.fr
First part:

0:00 - 0:28
a.

Which lexical field is developed here?
b.

What message is conveyed regarding the continent and its population?
a.

Second part:

2:53 - 5:16

Pick out words to fill in these categories.
| Verbs related to women | | Jobs and fields in which women are involved | | Adjectives and adverbs related to women |
| --- | --- | --- | --- | --- |
| | | | | |
b.

Using the information above, tick the adjectives that best describe the women featured in the video. Justify.
From all the information you have gathered, how would you define the aim of this video?






You are representing P.A.W.O. (Pan African Woman Organisation) at the U.N. Use what you learnt in this video to explain how women have always been a major force in the development of the African continent.
Enregistreur audio
Une erreur sur la page ? Une idée à proposer ?
Nos manuels sont collaboratifs, n'hésitez pas à nous en faire part.