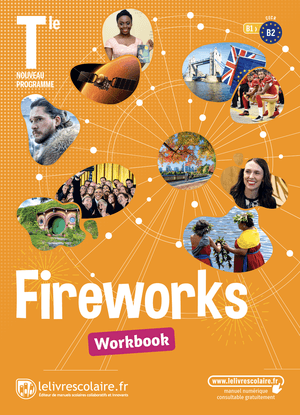 Anglais Terminale - Cahier d'activités
Rejoignez la communauté !
Co-construisez les ressources dont vous avez besoin et partagez votre expertise pédagogique.
1. Identities and Exchanges
2. Private and Public Spheres
Ch. 3
Is It a Man's World?
Ch. 4
The Roaring Twenties
3. Art and Power
Ch. 6
A Never-Ending (Hi)story?
4. Citizenship and Virtual Worlds
Ch. 7
To Tweet or Not to Tweet?
Ch. B
Digital Passports at Risk...
5. Fiction and Realities
Ch. 8
Chivalry Isn't Dead!
Ch. 9
It's GoT to Be Shakespeare!
6. Scientific Innovations and Responsibility
Ch. D
To Infinity and Beyond!
7. Diversity and Inclusion
Ch. 12
Multicultural New Zealand
8. Territory and Memory
Méthode
Méthode : Les épreuves de Terminale
Listen to the words of the word cloud and use them to guess the topic of the video.
Le zoom est accessible dans la version Premium.
Crédits : lelivrescolaire.fr
a.

Watch . Make a list of the activities the characters are doing and / or are talking about.
b.

Classify them in the grid below.
c.

Compare how the characters' feel about meal planning. Use adjectives to contrast. Pick one adjective for each character from the following list.
bored
annoyed
sarcastic
worried
understanding
amused
upset
angry
helpless
powerful
cynical
1.
Wife ➜
2.
Husband ➜
3.
Son ➜
a.

What is the objective of this video? Justify your answer.
denounce
entertain
criticize
inform
Present this scene from I Love Lucy to someone who hasn't seen it. Describe it and highlight how gender roles are portrayed, as well as how the characters feel about them. Give your opinion of this TV show.


Une erreur sur la page ? Une idée à proposer ?
Nos manuels sont collaboratifs, n'hésitez pas à nous en faire part.