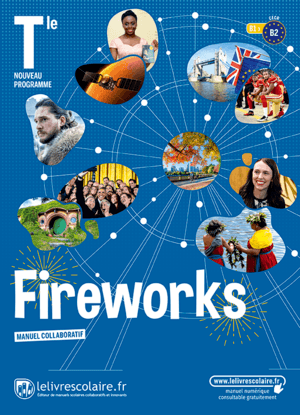 Anglais Terminale
Rejoignez la communauté !
Co-construisez les ressources dont vous avez besoin et partagez votre expertise pédagogique.
1. Identities and Exchanges
2. Private and Public Spheres
Ch. 3
Is It a Man's World?
Ch. 4
The Roaring Twenties
3. Art and Power
Ch. 6
A Never-Ending (Hi)story?
4. Citizenship and Virtual Worlds
Ch. 7
To Tweet or Not to Tweet?
Ch. B
Digital Passports at Risk...
5. Fiction and Realities
Ch. 8
Chivalry Isn't Dead!
Ch. 9
It's GoT to Be Shakespeare!
6. Scientific Innovations and Responsibility
Ch. D
To Infinity and Beyond!
7. Diversity and Inclusion
Ch. 12
Multicultural New Zealand
8. Territory and Memory
Précis
Unit A
Bac
Exam file
Préparation aux évaluations communes
Évaluations communes
1H30
1
Avant l'écoute,
lisez le titre ci-dessus et regardez le nuage de mots.
a.
Sur quoi peut porter cet enregistrement ? Faites trois hypothèses.
b.
Trouvez cinq autres mots que vous pourriez entendre dans l'enregistrement.
2
Après l'écoute
En rendant compte, en français, du document, vous montrerez que vous avez compris les éléments suivants :
Le thème principal du document ;
À qui s'adresse le document ;
Le déroulement des faits, la situation, les événements, les informations ;
L'identité des personnes ou des personnages et, éventuellement, les liens entre elles / eux ;
Les éventuels différents points de vue ;
Les éventuels éléments implicites du document ;
La fonction et la portée du document (relater, informer, convaincre, critiquer, dénoncer, etc.).
Le zoom est accessible dans la version Premium.
Crédits : lelivrescolaire.fr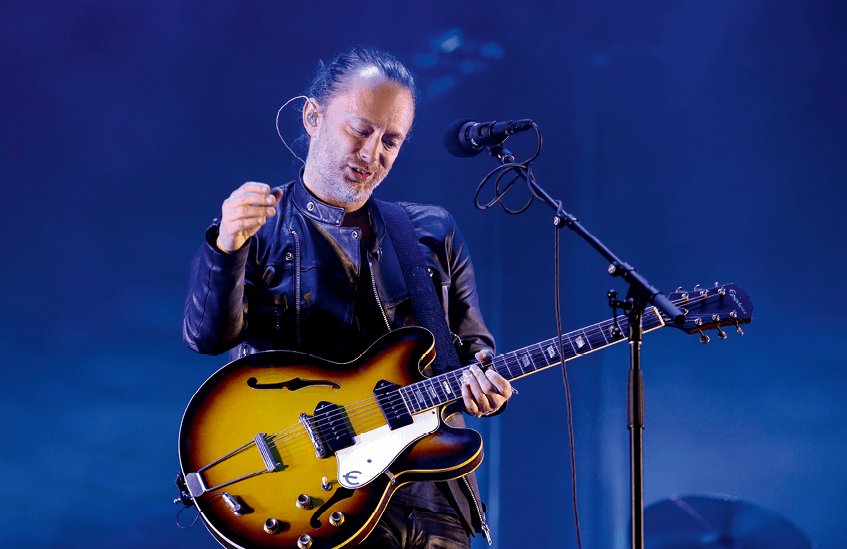 Le zoom est accessible dans la version Premium.
Crédits : Christian Bertrand/Shutterstock
Thom Yorke, Radiohead concert, 2016.
Radiohead's Thom Yorke Magically Appears at Climate Talks, Grist, 2009. (Timing: 00:00 to 01:47)
The music industry has indeed come under fire in recent years for the huge amount of plastic waste it generates at outdoor concerts and festivals each summer. The 2015 Bonnaroo Music and Arts Festival, for one, generated some 679 tons of waste over just four days. Aside from their irresponsible disposal after the fact, these single‑use plastics are also fossil fuel‑intensive to produce to begin with. But recent acknowledgement of this issue by the industry has resulted in actions by fans, bands and entire festivals.

Musician Jack Johnson has led the charge on this initiative, championing the elimination of disposable plastics on his tour, as well as partnering with several environmental groups to found the Sustainable Concerts Working Group. This organization created a blueprint for making tours more sustainable, listing actions to take by both the band and the fans. Their website has a long list of goals, followed by specific actions to achieve them—for example, reducing carbon dioxide (CO2) emissions by switching to renewable energy sources, more efficient lighting and biofuel‑powered transportation.

Many other musicians are also working to green up their industry. The Dave Matthews Band has taken significant steps to neutralize its environmental impact via its Bama Green Project, which educates fans around the world about paths toward sustainability. The band travels in a biodiesel tour bus and eats locally. Pop icon Adele has publicly championed the charity, Drop4Drop, which provides local, clean water to impoverished areas of the world. Rock band Phish founded the group WaterWheel in 1997 to focus on clean water and urban gardening. Meanwhile, U2 has worked closely with Greenpeace since the 1990s, helping them with protest campaigns from nuclear reprocessing in England to the destruction of forests in Russia. And punk rockers Green Day live up to their name by partnering with the Natural Resources Defense Council (NRDC) to raise awareness about American dependence on foreign oil.

While individual musicians have found success in mitigating environmental impact, some have also taken larger‑scale actions. Dave Matthews, Maroon 5, Willie Nelson, The Roots, Sheryl Crow and others founded the Green Music Group (GMG) in 2004 to help change the industry as a whole. The group has four core principles with which they hope to incur a paradigm shift: create a community of environmentally conscious musicians and fans; facilitate "large‑scale greening" of the music industry through touring, development and public service campaigns; give environmental nonprofits a megaphone for their cause; and position musical leaders as voices for change. GMG has already made 80 major tours sustainable while reaching over 10 million fans in just over 10 years.

Music festivals are also starting to follow suit. Bonnaroo recently partnered with the Plastic Pollution Coalition to encourage attendees to bring their own reusable containers, rather than giving out thousands of plastic cups. The Outside Lands Music Festival only uses biodegradable containers. Other festivals have completely eliminated the use of plastics; instead offering discounted products in return for reusable stainless steel containers. With this trend gaining momentum every year, music fans around the world can be optimistic that the music industry will continue on this road to sustainability.
Doug Moss and Roddy Scheer
"Musicians and Music Festivals Go Green", Earthtalk.org, 2016.
a)
Why is the music industry criticized? Explain in your own words.
b)
List the various actions that can be done to make music industry greener.
c)
Pick out examples of "green" artists and explain what they're doing.
d)
Explain in your own words what the Green Music Group is.
e)
What does the article suggest about the future? Quote two different passages.
f)
Could you be a green music fan? How far would you go?
Choisissez un sujet et répondez-y en anglais en 120 mots minimum.
Sujet A - Texte
"How can art, and art spaces, contribute towards better nows, and better futures, for all?" — Laura Coleman. Explain this quote with personal examples.
Sujet B - Texte - Vidéo
You are Thom Yorke or one of the artists mentioned in the text. You think artists can and should do a lot more to save the planet. Present your arguments in an open letter.
Sujet C - Vidéo
You are an artist. Write a message to the local newspaper explaining what was wrong with the Copenhagen climate talks and what should be done.
Assurez-vous de pouvoir organiser et structurer votre réponse.
Donnez votre avis et illustrez-le.
Faites référence à ce que vous avez appris dans l'unité et à vos connaissances personnelles.
Une erreur sur la page ? Une idée à proposer ?
Nos manuels sont collaboratifs, n'hésitez pas à nous en faire part.