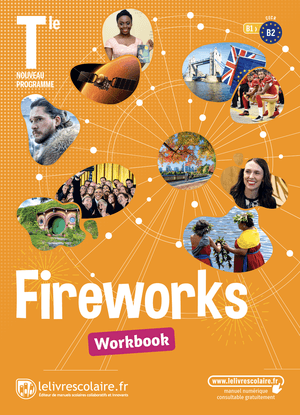 Anglais Terminale - Cahier d'activités
Rejoignez la communauté !
Co-construisez les ressources dont vous avez besoin et partagez votre expertise pédagogique.
1. Identities and Exchanges
2. Private and Public Spheres
Ch. 3
Is It a Man's World?
Ch. 4
The Roaring Twenties
3. Art and Power
Ch. 6
A Never-Ending (Hi)story?
4. Citizenship and Virtual Worlds
Ch. 7
To Tweet or Not to Tweet?
Ch. B
Digital Passports at Risk...
5. Fiction and Realities
Ch. 8
Chivalry Isn't Dead!
Ch. 9
It's GoT to Be Shakespeare!
6. Scientific Innovations and Responsibility
Ch. D
To Infinity and Beyond!
7. Diversity and Inclusion
Ch. 12
Multicultural New Zealand
8. Territory and Memory
Méthode
Méthode : Les épreuves de Terminale
Look at the word cloud and listen to the recording. Then, use these words to discuss what the video might be about.
Le zoom est accessible dans la version Premium.
Crédits : lelivrescolaire.fr
a.

Watch the . Pick out as much information as you can about the following topics. Pay attention to both what you hear and what you see.
| A pathbreaking female artist | A recorder of her own time | A role model/inspiration for other women |
| --- | --- | --- |
| | | |
b.

True or false? Say if these statements are true or false, then justify with keywords.
1.
Margaret Bourke-White's career lasted fifty years.
2.
She was a luminary (a famous name) in her lifetime.
3.
She was recognized as the first fashion photographer.
4.
She opened the way to other women.
What would you say about the tone of the video? What is its aim?
Use the information you have gathered about Margaret Bourke-White and vocabulary from the mind map on of your textbook in order to introduce her to your classmates.
Useful vocabulary: This video pays tribute to… It highlights… She worked as a… Her photographs depict…
Une erreur sur la page ? Une idée à proposer ?
Nos manuels sont collaboratifs, n'hésitez pas à nous en faire part.