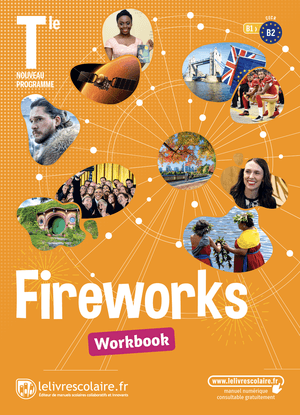 Anglais Terminale - Cahier d'activités
Rejoignez la communauté !
Co-construisez les ressources dont vous avez besoin et partagez votre expertise pédagogique.
1. Identities and Exchanges
2. Private and Public Spheres
Ch. 3
Is It a Man's World?
Ch. 4
The Roaring Twenties
3. Art and Power
Ch. 6
A Never-Ending (Hi)story?
4. Citizenship and Virtual Worlds
Ch. 7
To Tweet or Not to Tweet?
Ch. B
Digital Passports at Risk...
5. Fiction and Realities
Ch. 8
Chivalry Isn't Dead!
Ch. 9
It's GoT to Be Shakespeare!
6. Scientific Innovations and Responsibility
Ch. D
To Infinity and Beyond!
7. Diversity and Inclusion
Ch. 12
Multicultural New Zealand
8. Territory and Memory
Méthode
Méthode : Les épreuves de Terminale
Le zoom est accessible dans la version Premium.
Crédits : Lelivrescolaire.fr
Listen to the words in the word cloud and pick out the ones you expect to hear in the video.
Watch the first
.
a.

Pick out figures and say what they refer to.
b.

True or false? Justify with keywords if you can.
1.
The British Empire wanted to colonise New Zealand.
2.
There were only Brits and Maori in New Zealand at that time.
3.
The Maori asked the British Empire for protection against increasing disorder.
4.
There were translation problems in the treaty.
Watch the second
.
a.

To what extent is New Zealand different from the other Commonwealth countries?
b.

Pick out the adjectives you hear. What does it reveal about the tone of the speaker?
Prepare a timeline to be presented orally, explaining how the Treaty of Waitangi contributed to the foundation of the nation. Define the terms "Pakeha" and "Maori".
Enregistreur audio
Une erreur sur la page ? Une idée à proposer ?
Nos manuels sont collaboratifs, n'hésitez pas à nous en faire part.