Get ready!

Match the expressions with similar meanings.
The consequences will last a long time
Raising children
It has consequences on their children
It may create issues that last forever
Encouraging your children to eat less is wrong
Watch the video. True or false?
1)
The body image of teenagers is more fragile.
2)
Dr. Ashton is a plastic surgeon.
3)
Parents should set an example in the way they eat.
Get ready!




a.

Listen to the words in the word cloud. Then predict what the video may be about.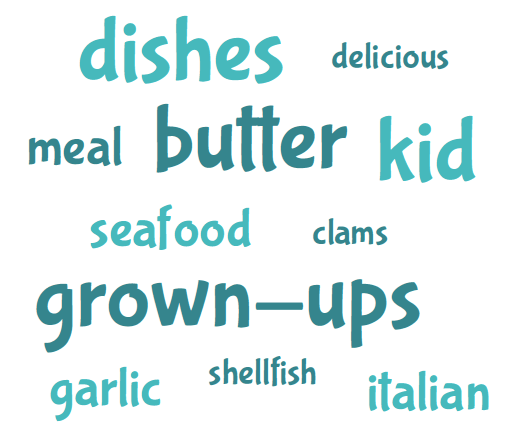 b.

Which of them correspond to the following French words?
coquillage
ail
plats
repas
adultes
Watch this video.

a.

What are the three adjectives he uses to present it ?
b.

Listen and pick out the ingredients he uses.
a.

Pair up these sentences said from the video.
It gives good garlicky breath.


If it's alive, it's good.


It's self indulging, it's rich, it's buttery.





b.

What does he do to encourage his daughter to taste new food ?

Get ready!

Listen to these words. Write the order in which you hear them.
birthday
restaurant
inspiration
menu
spirit
Watch the video and answer the following questions.

a.

Pick out the name of the two women who speak in the video. How are they related?
b.

Where does the scene take place? Why?
c.

What do these numbers from the video correspond to?
75 :
70 :
93 :
8 :
12 :
d.

Say whether these sentences are true or false.
1)
This is a family restaurant.
2)
The old lady opened the restaurant a long time ago.
3)
Everybody knows it's her birthday.
4)
She is retired, she doesn't work anymore.
How could you qualify chef Chase's personality? Tick the correct adjectives and justify.
Let's recap!

Present the video orally to the class.
Useful vocabulary: This video is a…
A journalist is interviewing...
The person interviewed is...
This is quite inspiring...
It explains the strategies and gives advice to...
Enregistreur audio