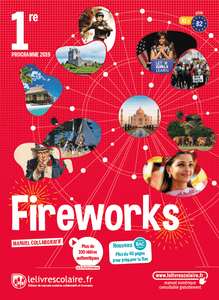 Anglais 1re
Rejoignez la communauté !
Co-construisez les ressources dont vous avez besoin et partagez votre expertise pédagogique.
1. Identities and Exchanges
Ch. 1
In and out of the Valley
Ch. 2
Nollywood and Bollywood
2. Public and private spaces
3. Art and power
Ch. A
The colors of music - Digital content only
4. Citizenship and virtual worlds
Ch. B
Back to the future - Digital content only
5. Fictions and realities
Ch. 8
Got(h) away with murder
Ch. C
From Britain with laughs - Digital content only
6. Scientific innovations and responsibility
Ch. 11
Is it a brave new world?
7. Diversity and inclusion
Ch. 12
The secret road to freedom
8. Territory and memory
Ch. 14
No thanks, no giving
Précis
Annexes
Unit 3
Activity 2
Differentiation
Seizing opportunities: Yes she can!
brave (adj.)
confident

/ˈkɒnfɪdənt/

(adj.)
diverse

/ˌdaɪˈvɜːs/

(US) / diverse

/ˈdaɪvɜːs/

(UK) (adj.)
progressive

/ˌprəʊˈgrɛsɪv/

(adj.)
congress (n.)
ethnic

/ˈɛθnɪk/

groups / communities (n.)
game changer (n.)
mindset

/ˈmaɪndˌsɛt/

(n.)
be elected (v.)
to win an election (v.)
make history (v.)
Differentiation

Watch the video.
Then, click on your path! or
Path A
1‑A
Pick out the places mentioned. Where does the action take place?
2‑A
Pick out figures / dates. When is the action taking place?
3‑A
How many women are represented? What do they have in common?
It shows women who are… All these women are motivated by…
Path B
1‑B
Recap the video (who, when, where, what).
2‑B
List the candidates mentioned. How do they stand out compared to the other senators elected so far?
3‑B
What is the message conveyed through the report?
There are… women mentioned… The scene takes place in…
Let's talk this out!
Pair work
Mediation
4
Can you identify with one of these women? Why or why not?
5
Is it necessary to be politically represented by someone who looks like you?
I would definitely vote for… as she…
I find it necessary / I do not find it necessary since...
Your time to shine!
6
Make a campaign flyer for one of these candidates
with the help of the information you have found. Be ready to present it.
Une erreur sur la page ? Une idée à proposer ?
Nos manuels sont collaboratifs, n'hésitez pas à nous en faire part.