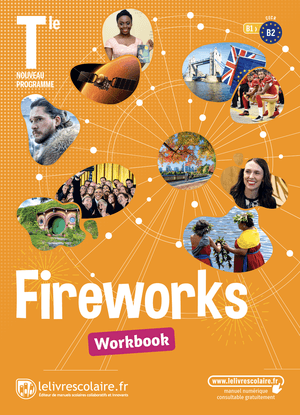 Anglais Terminale - Cahier d'activités
Rejoignez la communauté !
Co-construisez les ressources dont vous avez besoin et partagez votre expertise pédagogique.
1. Identities and Exchanges
2. Private and Public Spheres
Ch. 3
Is It a Man's World?
Ch. 4
The Roaring Twenties
3. Art and Power
Ch. 6
A Never-Ending (Hi)story?
4. Citizenship and Virtual Worlds
Ch. 7
To Tweet or Not to Tweet?
Ch. B
Digital Passports at Risk...
5. Fiction and Realities
Ch. 8
Chivalry Isn't Dead!
Ch. 9
It's GoT to Be Shakespeare!
6. Scientific Innovations and Responsibility
Ch. D
To Infinity and Beyond!
7. Diversity and Inclusion
Ch. 12
Multicultural New Zealand
8. Territory and Memory
Méthode
Méthode : Les épreuves de Terminale
Los Angeles Mayor Eric Garcetti has unveiled L.A.'s Green New Deal. This four-year update to the city's original sustainability plan, released in 2015, expands and accelerates the city's climate action goals.

The plan accelerates targets to ensure 55% of L.A.'s energy is renewable by 2025 and 100% by 2045; increase the percentage of zero-emissions vehicles in the city to 25% by 2025 and 100% by 2050; convert all city fleet vehicles to zero emissions by 2028; ensure all new buildings are emissions-free by 2030; and ensure 57% of new housing units are built within 1,500 feet of transit by 2025. [...]

"The scale of our ambitions must meet the magnitude of this crisis. So we are doubling down with L.A.'s Green New Deal [...]," Garcetti wrote in the document. [...]

One of the elements that makes L.A.'s sustainability plan stand out from other cities' is the emphasis it puts on equity. Researchers increasingly have warned city leaders that low-income neighborhoods bear a disproportionate share of environmental burden, an idea reiterated in a report from Yale last year. Low-income areas often have less access to transportation, less green space and more carbon-producing infrastructure such as major road thoroughfares and industrial areas.

Implementing upgrades to improve [environmental] friendliness — such as converting residences to renewable energy or purchasing an electric vehicle — is often cost prohibitive for low-income residents. Prioritizing communities that bear the brunt of climate change puts L.A. on a path to equity with its climate action goals.
Katie Pyzyk
"Los Angeles releases its own 'Green New Deal' ", Smart Cities Dive, 2019.
Find the words in the text corresponding to the following definitions.
1.
make sure (v.) ➜
2.
suffer the main part of (v.) ➜
3.
a heavy load that you carry (n.) ➜
4.
size, dimension (n.) ➜
5.
put into effect / carry out something that has been planned (v.) ➜
Spot and correct the mistakes in the following sentences.
1.
L.A.'s "Green New Deal" is the city's first ever sustainability plan.
2.
The plan focuses on ambitious environmental goals only.
3.
Garcetti's "Green New Deal" remains unfair: it leaves out people who cannot afford sustainable housing and clean transportation.
4.
The plan is going to exacerbate social inequalities.
Pick out the numbers in the video and find what they correspond to.
a.
Who are the key political figures associated with the Green New Deal in the video? Why? Match them with their

political party

and

role

.
| Franklin Delano Roosevelt | Alexandria Ocasio‑Cortez | John Lewis |
| --- | --- | --- |
| | | |
b.
What are the two main (and simultaneous) objectives of the Green New Deal? Add details if you can, like how to achieve these goals for example.
c.
Who criticizes the Green New Deal? What are the main arguments used against it?
Present what you have learnt about L.A.'s "Green New Deal".
The journalist might be slightly biased insofar as... A bold initiative... It is lacking full support because... On the grounds that...
Enregistreur audio
Une erreur sur la page ? Une idée à proposer ?
Nos manuels sont collaboratifs, n'hésitez pas à nous en faire part.