1. In Brazil, is there ...
2. To encourage children to go to school, the government
Too much, too young
Describe the photo and explain how it makes you feel. 💡  Tip: The child is… / She seems to… / I feel heartbroken...💬  Heavy /ˈhɛvi/ : huge weight. Lift /lɪft/ : to raise. Rags /rægs/ : old clothes. Tree trunks /trʌŋks/: a part of a tree.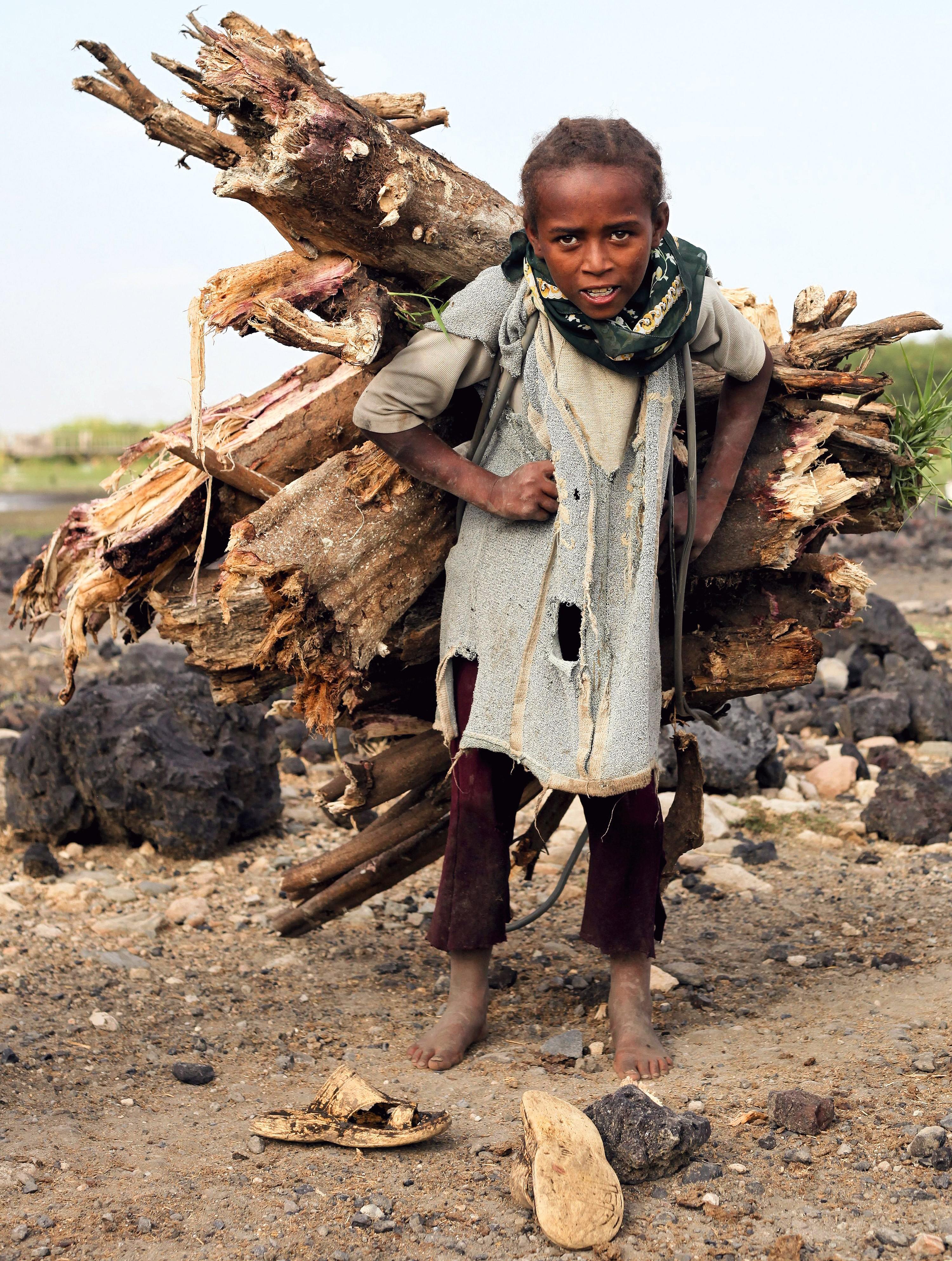 Child working in South Ethiopia, 2009.
Listen to the audio and answer the questions.
a)
What is the UN? 
b)
Give three examples of the type of work children are engaged in.
c)
Child labour is (unsafe / formative / risky).
Why are your chores at home very different of child labour?
Working in the shadows
Watch the video and highlight the children's daily activities.
International Labour Organization
Match the different types of labour mentioned in the report with the corresponding picture.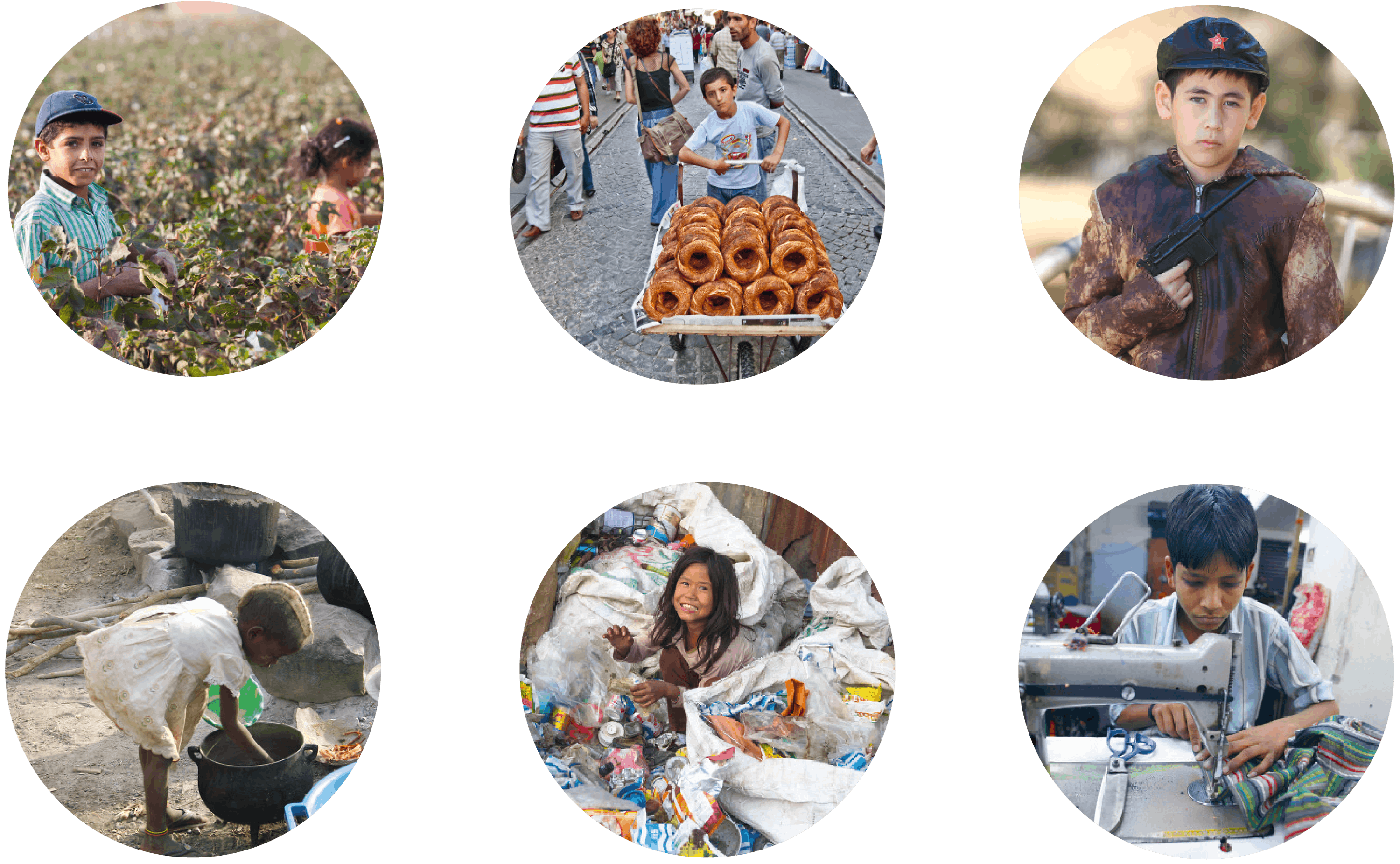 Domestic work : Scavenging : Street vending : Child soldiers : Agriculture : Manufacturing :
Match the numbers given in the report with the corresponding description.💬  Staggering /ˈstægərɪŋ/: huge, impressive. Earn /ɜːn/: get money for work
| | |
| --- | --- |
| 215 million | |
| 4 a.m. | |
| 150 million | |
| 12 million | |
| 60% | |
Imagine why these children work.💡 Tip: They might have to work in order to/so as to… They might be forced to work by…
Out of sight, out of mind
Note your immediate reaction to the title of the text and match each emoticon with its meaning (tired / angry / ferful / neutral face / unhappy).
| | |
| --- | --- |
| My immediate reaction | |
| 😐 | |
| 😖 | |
| 😨 | |
| 😭 | |
| 😡 | |
Read the text and sum it up in this table.
Apple, Samsung and Sony face child labour claims
By Jane Wakefield, BBC, 19 January 2016.
Human rights organisation Amnesty has accused Apple, Samsung and Sony, among others, of failing to […] ensure minerals used in their products are not mined by children.

Human rights organisation Amnesty [...] found children as young as seven working in dangerous conditions.
Cobalt is a a vital component of lithium-ion batteries. The firms said that they had a zero tolerance policy towards child labour. [Amnesty] also collected the testimonies of children who allegedly work in the mines.
Paul, a 14-year-old orphan, started mining when he was 12 and told researchers: "I would spend 24 hours down in the tunnels. I arrived in the morning and would leave the following morning... I had to relieve myself down in the tunnels... My foster mother planned to send me to school, but my foster father was against it, he exploited me by making me work in the mine."
UNICEF estimates that there are approximately 40,000 children working in mines across southern Democratic Republic of Congo.
Jane Wakefield "Apple, Samsung and Sony face child labourclaims", BBC, 19 January, 2016.
| | |
| --- | --- |
| Who is being accused of what? | Where did Paul work? |
| | |
Choose the best idea to stop child labour, according to you.
Explain your choice.
Listen:
Reducing child labour is our responsibility.
Réfléchis :
Our
se prononce (deux réponses possible) :
Aux États-Unis
labour
s'écrit
labor
. Écoute et repère le changement de prononciation. On entend la lettre .
Répète :
Our neighbour works for hours!
Past habits
Observe :
The children would typically scavenge for minerals.
Réfléchis :
Repère l'auxiliaire. Trouve le verbe. Dans ce contexte (des enfants sauvés des mines), sert-il à évoquer  
Conclus
: L'auxiliaire suivi de la peut m'aider à exprimer une habitude au .
Mission 1
I must...
I choose a form of child labour:
Choose your level: