Avant l'écoute ➜
Lisez le titre ci-dessus et regardez le nuage de mots.
a.
Sur quoi peut porter cet enregistrement ? Faites trois hypothèses.
b.
Trouvez cinq autres mots que vous pourriez entendre dans l'enregistrement.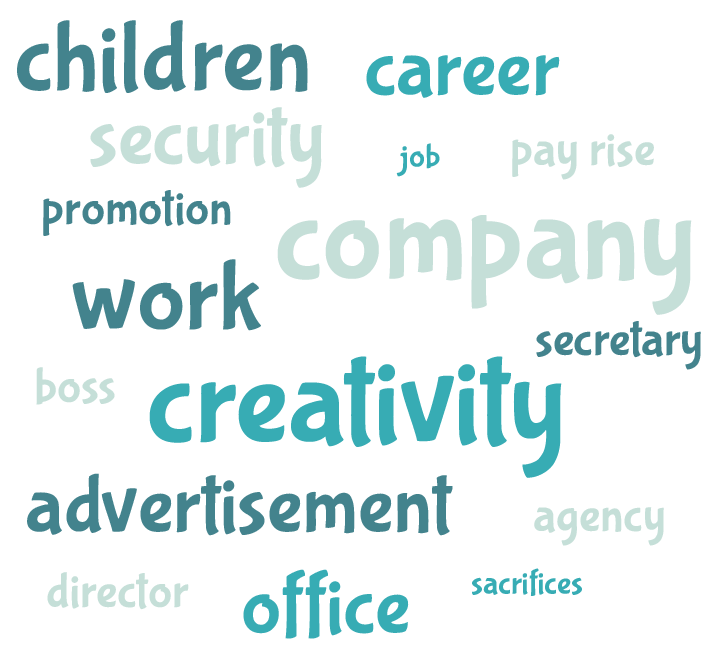 Après l'écoute
En rendant compte, en français, du document, vous montrerez que vous avez compris les éléments suivants :
Le thème principal du document ;
À qui s'adresse le document ;
Le déroulement des faits, la situation, les événements, les informations ;
L'identité des personnes ou des personnages et, éventuellement, les liens entre elles / entre eux ;
Les éventuels différents points de vue ;
Les éventuels éléments implicites du document ;
La fonction et la portée du document (relater, informer, convaincre, critiquer, dénoncer, etc.).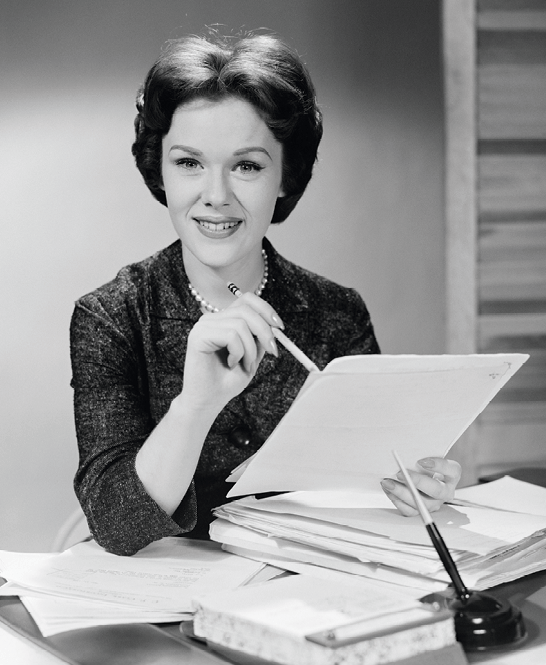 "In Deference to Men: Growing up in the 1950s"
One account of growing up female in the 1950s was taped in a two-minute video interview with Letty Cottin Pogrebin, whose story is very much like mine. We both learned that ladylike postures, specifically with legs crossed either at the knees or ankles, and hands in lap, were typically mandatory for a female in mid-century society. But female restrictions went deeper than just posture, as we accepted the cultural norm of displaying deference to men in words and

demeanor

1.

Showing this kind of

deference

2 was de rigueur for me growing up, as it was for Letty. Little girls were trained in mundane and monumental ways to take constricting, shrinking posture while boys were told to enlarge themselves and claim extra territory. This became such an unconscious reflex-action for girls wanting to fit in with their peers that the cultural pull was hard to counter. [...]

Demure, non-threatening ‒ and deferential: That's what I learned to be as a young girl. Boys, it seemed to be, required a great deal of ego-building.

By the age of twelve, when I had my first real boyfriend, I knew how to make him feel better, stronger, smarter than me. Although a gifted athlete, I managed always to lose: I intentionally threw the bowling ball into the alley gutter and ping pong or tennis ball into the net. Losing, I learned, was the price to pay for popularity. The boy had to win. I thought that no self-respecting girl would want to be with a boy who wasn't above her. And no boy would want a girl better than he.

And so, I was raised to take my place as a proper girl in our patriarchal society. I was contained, submissive and domesticated. I thought I would surely marry, have three children, and encourage my husband's success. His ego, or any masculine ego, had precedence over mine. I mastered a wide-eyed look of adoration for my boyfriend as I said "Wow, you're a plumber. Tell me about it. What do you do with faucets and drains?"

In my family, education wasn't important for a girl; in fact, it could only get in the way of marriage. If I were intimidating or too smart, no boy would want me. To be desirable, I learned to balance my love for school with choosing a non-threatening (read "woman's") profession. I became a teacher. That was best, I was told, because it gave me "something to fall back on." If my husband became ill or if I wanted to work after my children grew up, it was ideal. Since I love making art, I became an art teacher.

And yet [...], thoughts and feelings kept cropping up: something wasn't right. I needed answers for undefined questions. Why did I have to act differently when a boy entered the room? Why couldn't I be proud of my education and abilities and not have to hide them? Was I signing my paintings "Linda J" (replacing "Stein" with my middle initial) in wait for my husband's last name and his life (which would then become my life)? Why did society give boys so much more mobility, authority and respect, and why did girls accept such an unfair double standard? [...]

At Pratt Institute graduate school, I said to an art teacher that I was going for a doctorate. He replied,"Why go for a doctorate? Why not just marry one?"
"In Deference to Men: Growing up in the 1950s", Linda Stein, Womensenews.org, 2019.
1.
 behavior
2.
 obedience
Questions
a) Pick out elements to present the narrator.

b) What postures were women taught to adopt?

c) Were people honest with each other? Justify with elements from the text.

d) Pick out adjectives about women in this text and classify them into two categories:


e) True or false: People expected women to work after they got married.

f) What job did the author choose?

g) What was the teacher suggesting?

Choisissez un sujet et répondez-y en anglais en 120 mots minimum.
SUJET A : Texte • "Why go for a doctorate? Why not just marry one?" (paragraph 8) Imagine the scene between Linda Stein and her professor after he asks these questions.
SUJET B : Texte • Vidéo • What role do education and society have in building gender stereotypes?
SUJET C : Vidéo •What challenges did women face to lead a complete and fulfilling life?
Vos arguments doivent reposer sur ce que savez de la vie dans les années 1950 mais aussi sur vos connaissances personnelles de la culture anglo-saxonne.

Sujet A : Vous pouvez inclure des dialogues. Appuyez-vous sur des verbes et des adjectifs pour transmettre des émotions.

Sujets B et C : Structurez votre réponse et vos arguments.

Donnez votre avis sur le problème.
►
Méthode Exp. écrite