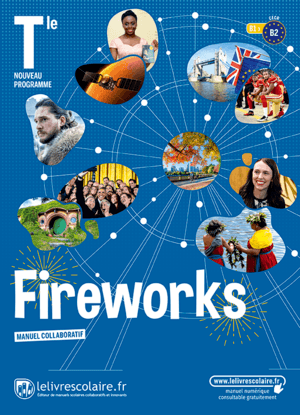 Anglais Terminale
Rejoignez la communauté !
Co-construisez les ressources dont vous avez besoin et partagez votre expertise pédagogique.
1. Identities and Exchanges
2. Private and Public Spheres
Ch. 3
Is It a Man's World?
Ch. 4
The Roaring Twenties
3. Art and Power
Ch. 6
A Never-Ending (Hi)story?
4. Citizenship and Virtual Worlds
Ch. 7
To Tweet or Not to Tweet?
Ch. B
Digital Passports at Risk...
5. Fiction and Realities
Ch. 8
Chivalry Isn't Dead!
Ch. 9
It's GoT to Be Shakespeare!
6. Scientific Innovations and Responsibility
Ch. D
To Infinity and Beyond!
7. Diversity and Inclusion
Ch. 12
Multicultural New Zealand
8. Territory and Memory
Précis
Read the quotes above.
1
a.
To you, which quote is the easiest to understand?
b.
Select one and rephrase it in your own words. Give examples to illustrate it.
2
Research the artists that you don't know and prepare to share your findings.
Let's talk this out!
Group work
Mediation
Share your findings with your classmates.
3
a.
How are all these artists working towards a greener future?
b.
To what extent do these quotes illustrate the idea that eco-art is changing the world?
essential / necessary (adj.)
challenge (n. or v.)
contribute (to) (v.)
empower /ɪmˈpaʊə/ (v.)
encourage / urge to (v.)
predict / foresee (v.)
Find the quote
List, in each quote, the words that include the letter "a". Then read your words aloud to make your classmates find which quote it is.
Pronunciation challenge
Practice one quote until it's perfect, then recite it to your audience!
Enregistreur audio
•
Une erreur sur la page ? Une idée à proposer ?
Nos manuels sont collaboratifs, n'hésitez pas à nous en faire part.